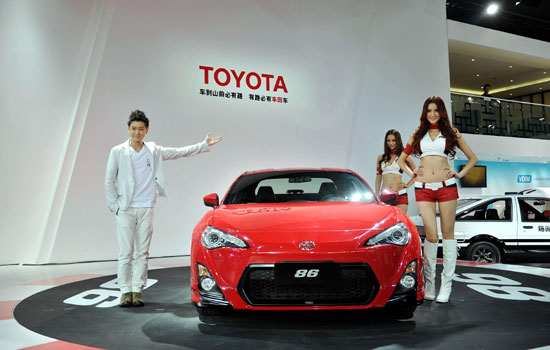 A new model unveiled by Japanese automaker Toyota Motor Corp at the Guangzhou Auto Show on Nov 22. Many new models launched at the show helped boost domestic car market, which saw sales hit a record in November. [Photo/Xinhua]
Guangzhou show helps boost market performance
Passenger-vehicle sales in China hit a record last month as a series of positive indicators boosted the market.
A total of 1.419 million cars, sports utility vehicles, multi-purpose vehicles and minivans were sold in November, a 13 percent year-on-year increase, according to data from the China Passenger Car Association on Friday.
The number showed that total sales for the first 11 months jumped 6.6 percent year-on-year to 13.12 million, paving the way for an increase of at least 5 percent in passenger-vehicle sales this year.
"Many new models launched at the just-finished Guangzhou Auto Show as well as a fuel price cut greatly supported the market performance," said Rao Da, secretary-general of the association.
Rao added that the 18th National Congress of the Communist Party of China last month had also helped boost confidence in the sector.
Cui Dongshu, deputy secretary-general of the association, said the Guangzhou Auto Show last month helped passenger-vehicle sales surge more than 20 percent in the last week of November.
"More impressively, China's homegrown brands recovered in the domestic market as their share of the passenger-car sector reached 35.1 percent, the highest in 20 years," Rao said.
Cui also said a rebound in sales of Japanese cars helped the domestic vehicle market. Sales of Japanese products have been hit by the row between China and Japan over the Diaoyu Islands.
Japanese automakers, which have dominated the Guangdong market and launched heavy sales promotions to help the rebound, saw sales boom by more than 50 percent from October, Cui said.
Toyota Motor Corp said on Monday its new-car sales in China fell 22.1 percent in November year-on-year to 63,800, but that was an improvement from a 44.1 percent decline in October and a 48.9 percent drop in