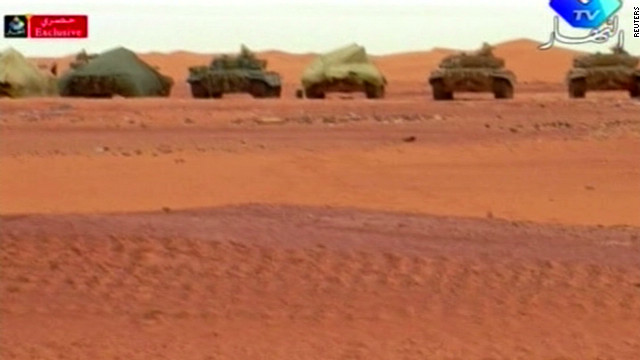 Algeria: Some hostages have been killed
(CNN)
-- British Prime Minister David Cameron warned his compatriots to prepare for "bad news ahead" related to kidnapping of dozens of hostages at a gas facility in Algeria.
Nearly 600 workers and four foreign nationals -- two Scots, a Kenyan and a French citizen -- were free by late Thursday after an operation launched by Algeria's military, according to the state-run Algerian Press Service.
Yet some hostages are still presumably being held, and the crisis is far from over.
"It is a fluid situation, it is ongoing," Cameron told the Reuters news agency. "But I think we should be prepared for the possibility of further bad news, very difficult news, in this extremely difficult situation."
The Algerian military operation was over by Thursday evening, according to the Algerian Press Service. At that point, there was no immediate indication as to how many hostages were still being held, what their condition was or if future action would be taken.
The military operation led to numerous casualties, though the exact number wasn't known, the APS reported. Two people -- an Algerian and British national -- died when the kidnappers attacked Wednesday, according to the same news agency. Cameron acknowledged, in his Reuters interview, that a British citizen "very sadly died."
Algerians and foreign workers were taken hostage at the gas plant in Wednesday's assault, apparently in direct response to France's offensive in nearby Mali. The gas field is 60 kilometers (40 miles) west of the Libyan border and 1,300 kilometers (about 800 miles) from the Algerian capital, Algiers.
The kidnappers have AK-47 rifles and put explosives-laden vests on some of the hostages, a U.S. State Department official said. It is not clear whether the hostage takers wore the suicide vests when they staged the action, another U.S. official said.
Read more: Islamists take foreign hostages in attack on Algerian oil field
The attackers put the number of hostages at "more than 40," including seven Americans, two French, two British and other Europeans. Another Islamist group told the Mauritanian News Agency there were 41 "Westerners."
The APS, though, reported that just over 20 foreign nationals were being held.
Officials from Norway, the United States, Japan and Great Britain have said some of their nationals are among the hostages.
Nine Norwegian employees of Statoil are unaccounted for, while five Norwegian nationals -- as well as three Algerians -- who work for the company are safe, the company said in a statement.
CNN affiliate BFM-TV reported that a French citizen, who is a nurse who worked on the site, was recently freed. CNN could not independently confirm the report.
An Irish hostage is also free, said Ireland's taoiseach, or Irish prime minister, Enda Kenny.
"I believe he has already spoken to his family in Belfast and I wish him a safe return home to his loved one," Kenny said of the freed hostage, Stephen McFaul.
An unspecified number of Americans are among the hostages held by terrorists at BP's In Amenas facility in Algeria, White House spokesman Jay Carney said. There could be as few as three American hostages, two U.S. officials said Wednesday.
One of the kidnapped Americans is a Texas man, a family member told CNN.
By Thursday night, some Americans had been freed while others remained unaccounted for, U.S. officials said.
"This incident will be resolved -- we hope -- with a minimum loss of life," said U.S. Secretary of State Hillary Clinton. "But when you deal with these relentless terrorists, life is not in any way precious to them."
Heavy clashes and drones
The man behind the group claiming responsibility for the attack and kidnappings is a veteran jihadist known for seizing hostages.
Moktar Belmoktar, an Algerian who lost an eye fighting in Afghanistan in his teens, has long been a target of French counterterrorism forces. Libyan sources said he spent several months in Libya in 2011, exploring cooperation with local jihadist groups and securing weapons.
Algerian troops fired on two SUVs trying to leave the kidnapping site, Algerian radio said, citing local sources. An Algerian reporter saw heavy clashes near the site, APS and radio reports said.
An unarmed Predator drone has flown over the plant to gather intelligence, a U.S. official said Thursday. Satellite imagery was taken previously.
Earlier, Algeria's state media reported that all Algerian nationals who had been held hostage were free: some had fled, while others were released. The hostages still detained are foreigners, Algerian Interior Minister Dahou Ould Kablia said.
In addition to the hundreds of freed workers, 30 Algerian workers escaped -- recovered by helicopters flying over the site -- according to the GPS report.
Meanwhile, two oil companies that operated at the site -- BP and Statoil -- are pulling non-essential personnel from Algeria.
"Our focus is 100 percent on the safety and welfare of those people and their families, and we are now beginning a staged and planned reduction in non-essential workforce on a temporary basis, pulling them out of the country," said BP Vice President Peter Maher from London's Gatwick Airport, where a chartered flight from Algeria was set to arrive Thursday night.
Militants blame Algeria for letting French use its air space
The militants said they carried out the operation because Algeria allowed French forces to use its air space in attacking Islamist militants in Mali. Media in the region reported that the attackers issued a statement demanding an end to "brutal aggression on our people in Mali" and cited "blatant intervention of the French crusader forces in Mali."
The fallout escalated after rebels kidnapped the Westerners, dragging governments beyond Africa into the region's conflicts and insecurity.
Japan and the United Kingdom sent officials to Algeria to get the latest information. French President Francois Hollande earlier confirmed the presence of French citizens on site but would not say whether any were hostages.
Cameron -- who canceled a Friday speech in the Netherlands -- talked with U.S. President Barack Obama about the situation Thursday, according to a Downing Street statement.
Before Algeria launched its military operation, U.S. officials urged the Algerians to be cautious and make the hostages' safety their first priority, an Obama administration official said.
However, Algerian government officials did not tell their U.S. counterparts in advance about their military raid, according to the official.
Read more: France, Germany and Italy: Terrorists in Mali must go
U.S. Defense Secretary Leon Panetta, in Europe meeting with NATO allies, called the hostage-taking "a terrorist act."
But so far, the crisis is viewed as an "internal situation for Algeria," said a U.S. official, who emphasized Algerian security forces have successfully handled internal threats in the past.
"It's too early for us to do anything," he said, adding that more solid information is needed.
CNN's Joe Sterling and Greg Botelho wrote this story from Atlanta. CNN's David Mattingly, Athena Jones, Barbara Starr, Jethro Mullen, Tim Lister and Faith Karimi contributed to this report, as did journalist Said Ben Ali contributed from Algiers.